With emerging technology and the IT industry developing day by day, the traditional concept of contingent workforce management must grow and develop to optimize the way work gets done. The data found in the Ardent Partners' market research numbers tells the story: "40% of today's total global workforce is comprised of non-employee talent, including independent contractors, freelancers, professional services, and temporary workers. It is important to note that these are not augmentative, supplemental workers, as today's non-employee workforce plays a critical role in how mission-critical work is handled, addressed, managed, and completed."
The rise of on-demand technology necessitates that successful businesses be responsive to ever-changing needs and consistently deliver in this dynamic industry. "Agility" is crucial and it is becoming a prime objective for successful executives. The contingent workforce has nearly doubled in just over seven years; and it's this growth that enables operational agility. As shown in the graph below, Ardent's research reflects the fact that agility is the most critical challenge contingent workforce programs are facing today.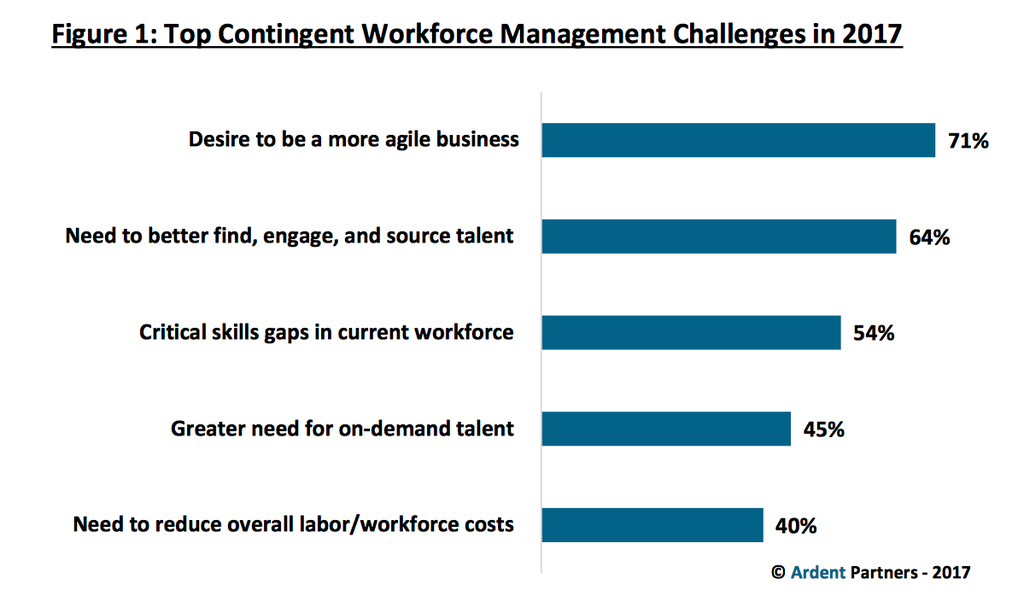 Driving this point home we also see that 64% of enterprises in this research study feel they need better talent management when seeking to find, engage, and source workers. Many executives are finding themselves in the position of asking "How will work get done?" Lately, this question is often raised even before asking "How much will this cost?"This reinforces the idea that talent, access to that talent, and the innovations behind work optimization are transforming how work is actually performed. As shown in the graph below, 73% enterprises today are utilizing new methods of addressing work: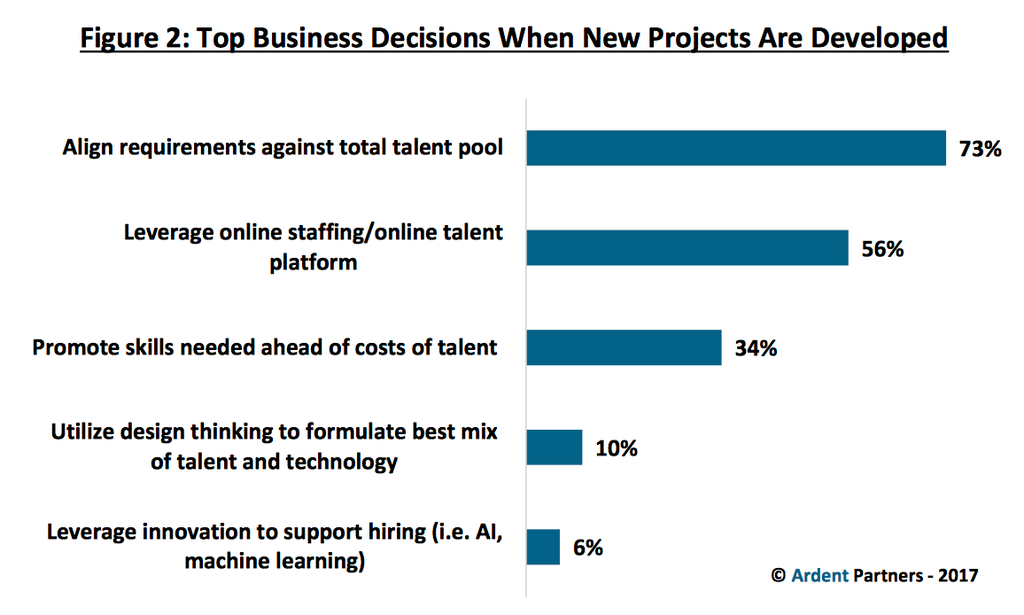 Project leaders and hiring managers are adjusting their approach to get work done, utilizing a network of resources which often includes full-time employees, a "talent bench" of past freelancers and contractors, and an extended network of talent across staffing firms, and most recently online talent platforms. As shown above, 56% of organizations are leveraging these labor automation and online talent platforms when addressing the requirements of a new project. Online and talent platforms like Techadox, which serve as real-time networks in which flexible/non-employee workers and businesses can connect, have quickly become a primary means of addressing talent-based needs.
Source: https://www.fieldglass.com/sites/default/files/state-of-contingent-workforce-management-2017-2018-convergence-of-talent-technology-and-future-of-work.pdf